Featured
Ariana Grande, Megan Thee Stallion, Nicki Minaj & More Sign Planned Parenthood Petition
Ariana Grande, Megan Thee Stallion, Nicki Minaj & More Sign Planned Parenthood Petition
Among almost 140 artists, Ariana Grande, Megan Thee Stallion, Nicki Minaj, and more have signed a new petition advocating for Planned Parenthood and their new initiative #BansOffMyBody.
The letter, also signed by Lizzo, Lady Gaga, Halsey, John Legend, G-Eazy, Macklemore, Miley Cryus, Demi Lovato, and more, reads, "Freedom is at the foundation of music. Access to sexual and reproductive health care is about that same freedom. Because no one is free unless they control their own body."
---
RELATED: Ariana Grande Donates $300K From Atlanta Concert To PlannedParenthood
---
It continues, "Sweeping bans on access to safe, legal abortion are stripping away our freedom. Now is the time to band together and say keep your bans off our bodies."
While speaking on the new petition, Billie Eilish says, "I'm proud to be standing up for Planned Parenthood as they fight for fair and equal access to reproductive rights. We cannot live freely and move fully in the world when our basic right to access the reproductive health care we need is under attack. Every person deserves the right to control their body, their life, and their future."
Read more of those who've signed and hit play on the video below to learn more on the initiative and how you can be involved.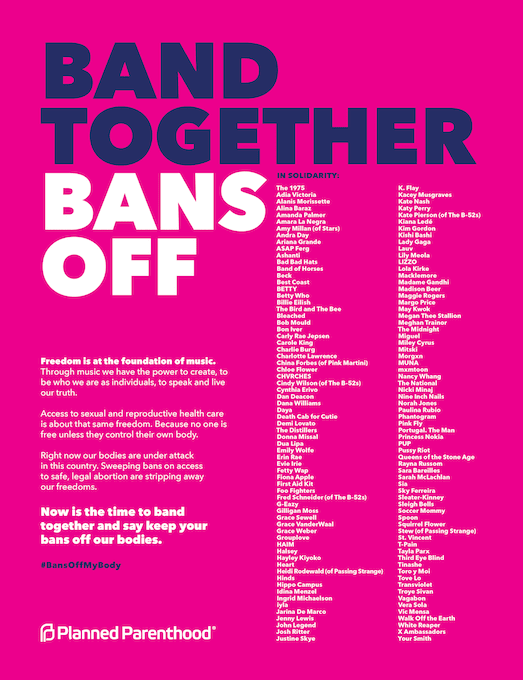 ---
RELATED: Travis Scott Donating Merch Profits To PlannedParenthood
---
#PressPlay below to learn more on the initiative