Music
Pete Davidson's Ex-Girlfriend Carly Aquilino Responds To His Engagement News With Snarky Post
Carly was quite snarky to say the least.
While the rest of the world is still shook over Pete Davidson proposing to Ariana Grande, his ex-girlfriend, Carly Aquilino, is seemingly already over the news and people blowing her phone up about it.
Aquilino, a former host on MTV's 'Girl Code,' hit Instagram Stories to convey her reaction from all of the engagement hoopla, and to say the least, her unimpressed mood all but screamed "I can't."
---
RELATED: Ariana Grande Engaged to Pete Davidson After Weeks of Dating
---
Additionally, she shared a screenshot of a text conversation from someone stating, "I know I'm the 9 billionth person to text you about this, but… I can't," to which she responded, "HAHHAHAHAAH," and captioned the story in all caps"MY DAY IN A TEXT MESSAGE."
Also, she posted another IG story with tons of word art ranging from: "I quit;" "Cool (with ok hand sign);" "social life: 404 not found;" "*cries into my burger*" and more.
---
RELATED: Pete Davidson Drops $100K On Engagement Ring For Ariana Grande
---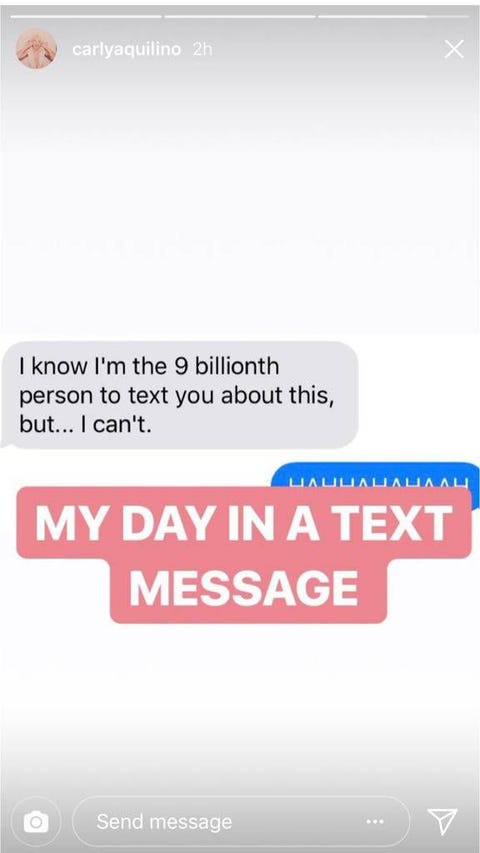 ---
RELATED: Ariana Grande Friend Reportedly Worried About "Spontaneous" Engagement
---
#PressNext below to view more images of Pete Davidson's ex Carly Aquilino
---